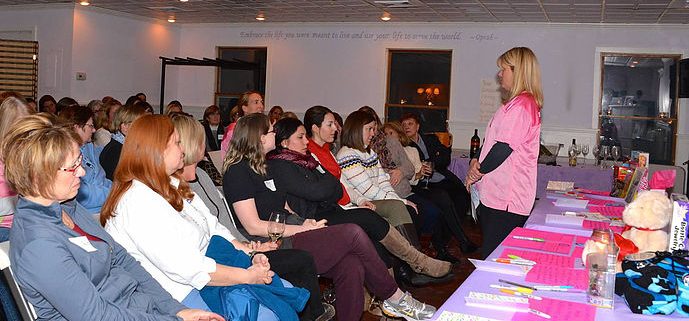 As many of you have heard, but some may not know, on the first Tuesday of every month I stand in the meeting room in front of a table full of wine, appetizers and Diet Coke, a table full of family pictures, descriptions of the journeys they are on and the meals, financial support, and acts of love they are in need of.
And in our empty meeting room I start twitching… and I throw my arms up in the air and say to myself or to the other Heartworkers preparing the room, "I DON'T THINK ANYONE IS COMING! It's cold outside! It's a busy week! Nobody is coming and oh my God there is so much love needed! AUUGH! Why do we do this every month? It's too much! Why do we do this to ourselves? All this faith and vulnerability that we put out there, just so that nobody shows up and we have to eat all this cheese by ourselves! I'm going to start going to the mall more often. Does anybody have any Twinkies? And someone open that bottle of Pinot Grigio pronto."
And then, within a few minutes of this outburst, the front door opens and women walk through the door, grab a name tag, put a love donation in the basket and sign up for meals, gifts, rides and whatever else is needed for the families on the table. It always feels like a miracle to me.
Every single time, even though I have been doing the same thing, every month for 10 years, I honestly think that it is a miracle — to have 50 women leave their homes on a winter night and step into a level of awareness that includes, sick children, terminally ill parents, car accidents and house fires. But what every woman who walks through the door also knows is that here, at these meetings, we feel less alone in our own struggles. We feel hopeful in a seemingly hopeless world. And I personally just end up feeling like less of a jackass in my own life.
Heartworker Meg Hajjar stood up this month and shared her struggles and the gifts that Heartworks has been offering her family. Her vulnerability and raw honesty about being home with her son as he navigates the challenges of a chronic, lifelong illness had every woman in the room wanting to hug her and not let go. I felt blessed to be a part of the full room of women. I am blessed that women show up month after month, year after year and are simultaneously fully aware of my lack of faith at 6:55 p.m. on the first Tuesday of every month.
Also at our meeting…a handmade afghan was passed around to everyone to be filled with prayers for 21-year-old boy in Basking Ridge while he goes through treatments for cancer this winter. It is being delivered to him this week by a Junior Heartworker. We passed around a "serenity bracelet" to send to a mom in Connecticut to help her cope with chronic pain she is experiencing from a double mastectomy. It was stunning to see a full room of women; quietly focused on sending love to people they have never met before.
The quiet was something we all needed and didn't even realize we crave. The connection it inspired is something I hope we all bring to the car lines, sports practices and friendships outside of the monthly Heartworks meetings.
Thank you for showing up on Tuesday and thank you for continuing the kindness that saved us all, in one way or another, in the fall of 2001.
https://www.njheartworks.org/wp-content/uploads/2016/10/fullofconfidenceblog.jpg
432
689
heartworks
https://www.njheartworks.org/wp-content/uploads/2019/03/Heartworks-Tagline.png
heartworks
2015-01-12 13:32:23
2022-05-05 10:54:20
Megan McDowell Being Full of Confidence Before a Heartworks Meeting (Not)