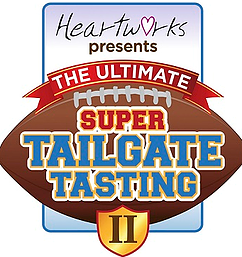 Our big Heartworks fundraiser is this Friday. We have been doing this type of fundraiser for the past four years, making it more public just these past two years. The idea first came up that we needed to start having bigger, more public fundraisers the first year we were in the Heartworks house. And the idea made me want to throw up.
I loathed the idea of throwing a fundraiser that might make women feel they needed to get new outfits and get their nails done while moms of sick kids were home in flannel pants trying to get through the day. I was SUPER hesitant that energy would be spent on planning a catering menu rather than a meal for a family who needed some love that night and felt nauseous to spend ANY money on ANYTHING that wasn't enhancing the experience of someone who was struggling.
It seemed crazy, ridiculous, irresponsible and wasteful. Not really how the founder of a non-profit usually thinks…I know. So someone who loves me and respects my vision for Heartworks AND knows a lot about fundraising, said she may be able to help. She came over for a Diet Coke and asked me what my plan was to spread the word about our mission, raise money for the overhead for our now gathering space for Heartworks and how to include the general public in our mission.
Hmmm…I didn't have an answer I was sure of. She gently and carefully began to explain to me that the money spent on fundraisers was worth the effort because it brings in more money and it would offer a night when Heartworks husbands and significant others can experience what our work is all about AND it's a great way to get our message out to the general public.
Hmmm…Maybe she and nearly every other non-profit on the planet were onto something. Maybe I should give it a try I thought. Our first big fundraiser was full of support and purpose and love for the cause. It made Heartworkers happy and grateful to show the men in their lives what we are really about.
Right before I stepped up on stage to speak at our first real fundraiser, a Heartworker said to me, "My husband is here and he doesn't really get why I love Heartworks so much, so do me a favor and do what you usually do…talk about God and drop some swear words and get real about what life is really about and be funny and remind him that life is not just about his career. Tell a story about how sad some things are in people's lives so he is not so concerned about getting a bigger flat screen TV."
Hmmm….ok, no pressure there. Explain Heartworks, talk about God, swear, be funny and make your husband cry and have a spiritual awakening. Got it.
This year I understand the necessity of all the work for the fundraiser. I see how it has created new friendships and I love that people are going to come and hopefully be inspired to use the spare moments of their busy lives to give to people who are struggling.
I love that chefs, vendors and businesses are using their talents to create hope for families they have never met. My greatest hope is that people leave Friday night remembering the promises they made to themselves in September of 2001 that may have slipped into a distant part of their brains and hearts 14 years later.
Friday night is a chance for us to come together and introduce the concepts or Heartworks to new people and for all of us to realize how blessed we are and how much we have to give. It's a night of unbelievable food, great wine and cold beer. It's a party with a purpose which is pretty much the only kind of party that make sense to me anymore. Hope to see you there!
https://www.njheartworks.org/wp-content/uploads/2016/10/fundraiserblog.png
257
242
heartworks
https://www.njheartworks.org/wp-content/uploads/2019/03/Heartworks-Tagline.png
heartworks
2015-01-20 14:42:42
2022-05-05 10:54:20
My Ah-Ha Moment About Fundraisers