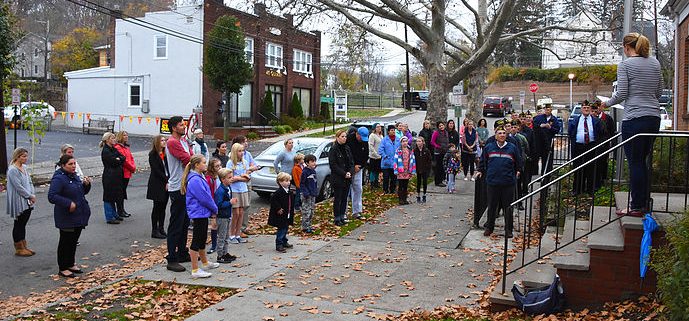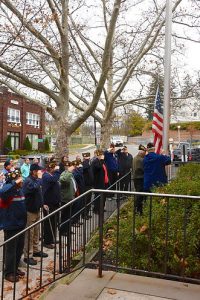 Below are the words that Heartworker Jen D shared at the flag raising ceremony this morning. They struck my heart and opened my eyes.
They made me feel relieved that Veterans are on our radar and that honoring them is a part of our consciousness at Heartworks.
We are blessed to be aware of all that we have and where it all came from because it creates gratitude and perspective, and without these two things, anxiety is inevitable (Gratitude and persepctive keep anxiety at bay)
Please join us for our last remaining ceremonies today at 4pm and tomorrow (Friday) at 8am and 4 pm.
Heartworker Jen's words, 8:00 am the Day After Veterans Day

Yesterday we were called to remember our military men and women who have fought for our freedom – near and far. We were called to remember the men and women who served past and present and the sacrifices they made. We were called to remember the sacrifices their families made. The holidays without their loved ones, the children who have missed their moms and dads and brothers and sisters for months upon months. We were called to take pause and reflect on the men and women returning form wars who weeks, months, years later bear the physical and emotional scars from those sacrifices. Physical wounds – limbs missing, embedded shrapnel, backs no longer able to bare the weight of their bodies. The Mental wounds – post traumatic stress disorder, anxiety, depression.

So here we are the day after November 11th – the day after Veteran's day – the day after the parades and formal ceremonies and dedications. The day after all the Facebook posts and commercials and political hoopla. . And, here the day after November 11th are also our Local Veterans from VFW Post 7858 – and here are you all as well. Here we are. November 12th. Is anything different from yesterday? Are the same men and women who received that moment of honor and reflection not just as worthy today on November 12th? Are they not still away from their families, missing holidays, missing Christmas chorus concerts, and soccer games? Aren't they today – just like yesterday.. still struggling with depression, loneness, and physical rehabilitation?
So, today – let's take with us the same energy and intention we carried yesterday. Let's do this and remember that every errand, every sporting event, our jobs and educations are available to us because of the armed forces. Let us not forget this, yesterday, today or tomorrow.

Thank you for coming and we will see you back here at 4:00 today.
https://www.njheartworks.org/wp-content/uploads/2016/10/veteranblog2.jpg
440
689
heartworks
https://www.njheartworks.org/wp-content/uploads/2019/03/Heartworks-Tagline.png
heartworks
2015-11-12 14:35:06
2022-05-05 10:54:19
The Day After Veterans Day