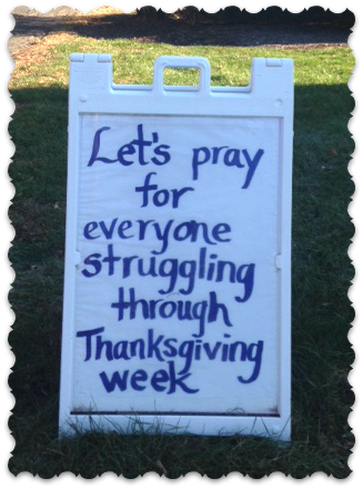 I am sitting here alone at the Heartworks House. There has been a flurry of activity here all week getting ready to help families with Thanksgiving that are too sad, exhausted or distracted with illness or grief to care about what type of stuffing they are having or what tablecloth they are using. We feel blessed to be a part of the sacredness of their holiday. We feel grateful for the opportunity to "walk with God" by planning for them what they can not plan for themselves. We wonder if this time next year, it will be one of us that illness or grief places in a position to accept kindness and we pray that if so, we have the grace to say "YES" to any kindness that comes our way.
Below something that my dear friend Kristen wrote yesterday. Kristen has spent the past week in at Children's Hospital of Ocean County, CA with her 13 year old daughter Sage. Sage has had shoulder pain and when Kristen took her to the doctors last week thinking it was a pulled muscle, she was sent to the emergency room and has not been home since. Sage has a cancerous growth under her arm. A treatment plan is being formed while Sage and her parents go home for Thanksgiving. I know Kristen, and I know how much she loves holidays. I'm pretty sure a week and half ago she was thinking forward to this week and planning her centerpiece and her menu. But that was a week and a half ago….
I send you her words because if your table is full this year and you have nobody in the hospital, my prayer for you is that you are able to let go of what is not important and live the rest of the week in deep contentment and gratitude. And if someone is missing from your table, or someone you love is not well, please remember that you are not alone.I know that there are a lot of happy faces rushing around the grocery store this week, there are just as many anguished faces sitting at home wanting the festivities to be over. My greatest hope is that her words reach a place within you that is aware of perspective and hope, and that a spark of knowledge is lit there to lead you clearly throughThanksgiving and the coming weeks.
Dear Friends,

What a day.. a nightmare… a roller coaster… a blessing… I am so grateful to be home. I am so grateful Sage smiled. I am so grateful for my family who has been unbelievable in helping… There are not enough words to thank them. And our friends. Our friends…I'm speechless at the outpouring of love.

This is impossible. Almost unbearable. The pain, grief, fear, sadness and exhaustion are beyond measure.

Sage had her hardest night last night with the pain from her biopsy, yet we're home. She and I cried listening to Meghan Traynor's "I'll Love You Like I'll Lose You" , a song we've listened to a hundred times, but which takes on a whole different meaning when you are staring into the eyes of your child fighting for health. Listen to that song under that context. You'll see what I mean.

Bawling when she tells me with a wisdom beyond her years, that she "feels different."… I know what she means. It is different. She is different. We are all different. Life has changed forever. Sage now knows pain and fear and uncertainty.

This is one of those moments in our life journey that defines us. That throws us in a direction of experience, challenge, learning and growth that we didn't want. That I feared. And am now living. It's a fight I've seen others fight. A fight that scares the shit out of me. And now I'm the underdog, the challenger…because it's new and terrifying. And my purpose and reason for living is the prize. We will not be defeated. It's not an option.

Yet, there are moments of calm and peace and beauty in the storm. My husbands hugs. My daughters look. My pets showing affection. The nurses care. The doctors expertise. Medication. Family love and being there. Friend support. Visits. Requests to visit. Understanding. Messages. Texts. Cards. Meals. Calls. Posted pictures. Posted memories. Prayers…

How could I not feel blessed?

And I know, in the deepest core of my being, that this is a wrinkle in what my mom called my "charmed life." And I know that she, and all the others who have loved us and have moved on, are wrapping Sage in love and healing. We will look back on this time, in time, with awe.

Blessings and peace.
Have the sweetest of dreams.
Kristen
https://www.njheartworks.org/wp-content/uploads/2016/10/thanksgivingblog.png
489
363
heartworks
https://www.njheartworks.org/wp-content/uploads/2019/03/Heartworks-Tagline.png
heartworks
2015-11-24 14:45:02
2022-05-05 10:54:19
Thanksgiving thoughts from Megan