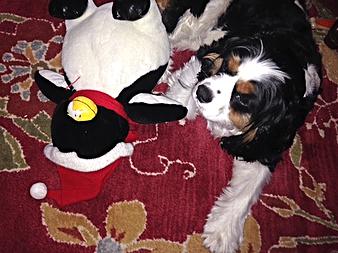 So it's December 1st…My seven-year-old handed me a list of 54 things she is asking Santa for and I haven't looked at my other two daughters' lists yet. My house is half decorated, which is my weekend-after-Thanksgiving tradition, but now I don't feel like lugging the empty storage bins back up to the attic and the dog is eating half the stuff I put out yesterday.
Hmmm…the holidays…The dance of looking forward to the fun, combined with an underlining feeling of anxiety, mixed in with moments of sweetness (My seven-year-old in a Santa hat, humming Christmas songs as she adds fake vomit to her list of 54 items).
My commitment this year, as it is every year, is to put conscious focus on losing my mind. YES, losing my mind…losing my mind completely. I have come to learn that my mind will not help me over the course of the next 24 days.
My mind will do nothing other than focus on the anxiety and the "not done yet list." My mind will focus on the fact that I never got those oversized red Christmas balls I said I was getting for the tree this year, the crazy amount of money I am putting on the credit card (not sure of the cost of fake vomit these days), that the house doesn't look like Pottery Barn, even after I put their pillow on the couch that says "JINGLE."
My mind will keep telling me that I need new black heels and a highlight and to lose 10 pounds, preferably this week. My mind will rob me of the magic the books on my mantle are talking about. My mind will cloud the fun this month offers. My mind will keep me anxious and reaching for another snowman cookie and double spiked cider.
This is why the Chinese refer to the mind as "the curious organ." Our culture doesn't necessarily see it as "curious." We see it as "the boss," the organ to depend on and trust. But this dependency on my thoughts will not give me what I want this season.
As cheesy as it sounds, it is my heart I want to listen to. It is my heart that will help me savor these 24 days and it is my heart that is expansive enough to take it all in — the chaos, the beauty, the anticipation, anxiety and the sacredness of what the holidays are meant to be about.
It is my heart that knows for sure that everything that needs to get done will get done. My heart will remember to stop fussing with the lights and sit down to read Mary, The Polar Express. My heart will notice Caroline holding the ornament that we bought in Rhode Island seven years ago and remind me to ask her what she remembers from that trip.
My heart will recognize that Madison's favorite song, "All I Want for Christmas is You," is on and to blare it and start dancing with her in the kitchen. It will be my heart, not my mind that tunes me into such moments. My heart can be trusted to not miss the truth. It is my heart that will lead me on the path to peace.
So this year, I am going to talk to my heart all day, every day and ask it to help me see, REALLY see, what is important and ask God all day, every day to help me trust my heart and not my mind.
https://www.njheartworks.org/wp-content/uploads/2016/10/losingmindblog.jpg
253
338
heartworks
https://www.njheartworks.org/wp-content/uploads/2019/03/Heartworks-Tagline.png
heartworks
2014-12-01 13:25:35
2022-05-05 10:53:55
Losing My Mind for Christmas