This is an update on what is happening at Heartworks in the next week with the 15th anniversary of September 11th upon us.
We want you to know about something powerful and sacred that we are planning for the upcoming anniversary.
September 11, 2016 – INVOKE PEACE DAY
We are asking all Heartworkers and anyone else who would be willing to participate to invoke peace within your own heart all day on Sunday. So what this means is…..
Start the day off with thoughts and intentions of peace. As soon as you open your eyes on Sunday say "peace" either out loud or to yourself. Set the intention of invoking peace within you throughout the day- to have peace be in the forefront of your mind. Commit to do everything this day with the intention of peace. In your words, thoughts and actions.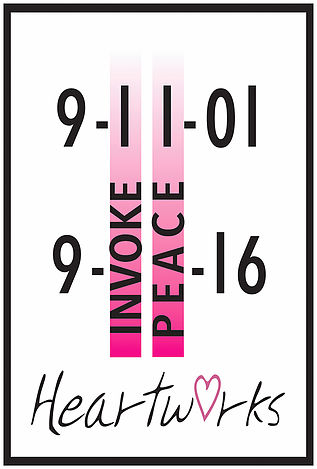 Invoke peace while making meals
Invoke peace in every conversation
Invoke peace while packing up bags
Invoke peace while driving your car
Invoke peace in all conversations
Invoke peace with every gesture
Invoke peace with every contact
Invoke peace in every thought
Invoke peace in every action
Invoke peace for those you love
Invoke peace for those you feel hatred towards
Commit to peace in everything you do, and as a symbol of your commitment (or your family's commitment) we are asking that you drop a mum off at the Heartworks House between Wednesday September 9th, and Tuesday, September 13th . These "Peace Mums" will then be available starting at our Tuesday September 13th meeting for everyone to come and take one and deliver to someone they know who is searching for peace. The card attached to the Peace Mum will read:
Invoking Peace ~ September 11, 2016
This mum is a symbol of peace.
It is given to you in hope
of invoking the peace
that exists within,
especially when it
alludes you.
More to come on our plan for invoking peace all over town, but for now thank you for reading and please spread the word.
https://www.njheartworks.org/wp-content/uploads/2016/10/911heartworksblog.jpg
469
317
heartworks
https://www.njheartworks.org/wp-content/uploads/2019/03/Heartworks-Tagline.png
heartworks
2016-09-06 15:33:32
2022-05-05 10:54:42
9.11.16 Invoke Peace